Brenda
Hygienist
Brenda has been a clinical dental hygienist for 32 consecutive years. She brought her professionalism and experience to SWVA in 2009 and has provided our patients at this location, a high standard of quality care since March 2010. Brenda enjoys getting to know her patients on a personal level, building mutual trust and establishing assurance that she plays an integral role for each of her patients to obtain and maintain their optimal level of dental health.
Brenda was also a part-time adjunctive clinical instructor at Wytheville Community College from 2011 to 2013, sharing her skills and "tips" with the future dental hygienists of that time.
When Brenda is not involved with her dental life, she enjoys experiencing her journey with her husband, partner and best friend Marty, while listening to music, attending small venue concerts and spending time with her horses and dog, Axel. One of her daily goals is taking the opportunity to capture God's Beautiful World on film while exploring these amazing hills of Southwest Virginia.
Jessica
Hygienist
Jessica joined our team with over 11 years of dental hygiene experience. Jessica graduated from Wytheville Community College in 2010. Jessica is a native to Wytheville VA and still resides here with her husband Eric and their daughter Cora Pearl. You will find that she is compassionate and able to put her patients at ease to help ensure a positive dental experience. She has a contagious laugh and enjoys getting to know her patients on a personal level. When Jessica is not in the office or traveling you can find her on the family farm, enjoying gardening, and caring for her farm animals.
Brittany
Hygienist
Brittany is originally from Wytheville where she graduated from Wytheville Community College in 2015 with a Dental Hygiene degree. She is married to her high school sweetheart, Max, and they have the cutest baby boy, Murphy. She is personable with her patients and always has a smile. When she is not at work she enjoys spending time with her friends and family and traveling anywhere tropical.
Hannah
Assistant
Hannah joined the WDG team in 2022 with a little over 3 years of dental assisting experience. Hannah is a Wytheville Community College graduate. Her chairside skills, enthusiasm, and positivity make patients' dental appointments enjoyable. When Hannah is out of the office, you can find her kayaking or snowboarding, spending time with friends and family or hanging out around the farm.
Abigail
Assistant
Abigail joined the dental field in 2014 as a Dental Lab Technician and then Dental Assistant. Abigail resides in Vinton, VA and is originally from Mexico. She is fluent in Spanish and English. Abigail has a positive attitude and always goes the extra mile for her patients. When she is not working, she enjoys being with her family, the outdoors, and just being active.
Santana
Assistant
Santana joins us as a recent graduate of VHCC dental assistant program. Her chairside skills and enthusiastic personality are a great gain for our office. When Santana is away from the office, she can be found spending time with her friends, shopping and enjoying the outdoors with her husband Chandler and their great dane Cooper.
Cailyn
Treatment Coordinator
Cailyn comes to our office with 7 years of dental assisting experience. Once starting in our office, she became the front office/treatment coordinator. She will occasionally assist when needed. She loves being able to help people restore their smile again. She is an outdoors enthusiast and loves her family. She enjoys hiking, hunting and all things farming. Traveling the USA is a must for her when time allows.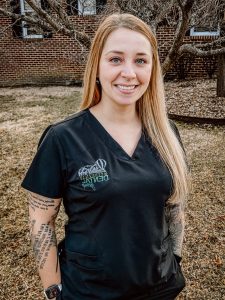 Tina
Office Manager
Tina joined our dental family in April 2021, bringing with her over 40 years of dental experience. She has worked as a chair side assistant and office manager. When Tina is out of the office, she can be found enjoying life with her husband Mike. They have one son, a daughter-in-law and two precious grandchildren.
April
Hygiene Coordinator
My name is April, I went to Wytheville Community College received my Dental Assisting certificate in 2008, and graduated with my associate's degree in 2010. I have 12 years of dental experience, assisting and front office duties and 4 of those years were in Endodontics. I understand firsthand how dental treatment can make some patients uneasy and can use my personal and professional experience to help put their minds at ease. I love being part of a team that puts patient's desires and concerns first. I'm a mom of 3 Kyra, Khloe, and River. We also have 2 dogs Winnie and Comet. We live off the New River in Fries VA, so when I'm out of the office I enjoy spending time out on the water, cooking out, or movie nights with family, and friends.
Ready to schedule an appointment?